September has been BUSY!! So productive and I've learned so much! I've been busy with building my Colorado real estate career that began in August (more coming about that soon), getting new customers at our family's auto repair shop, Mastermind Enterprises, and even worked on my first guest post for another blogger friend of mine! I met some new friends and loved on my family, too. 78 days until baby is here!
It was time for another family harvest this past weekend! We harvested and processed tomatoes and grapes – two family food favorites. Gardening is not an easy task. Thankfully, it's a family effort and we've done our harvesting in stages!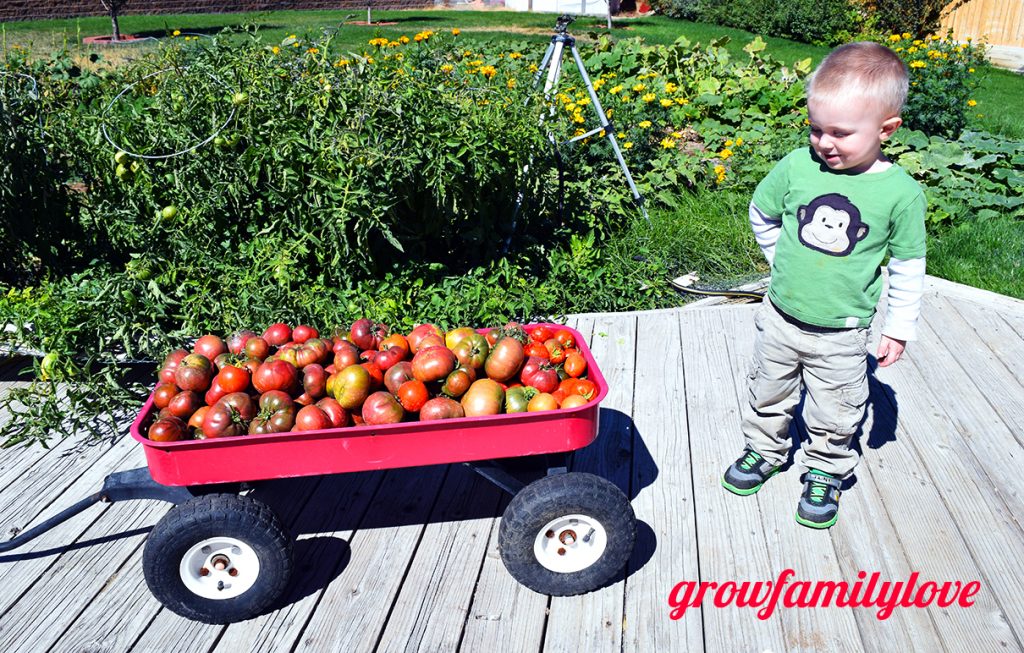 This year, we have 30 tomato plants alone, so we couldn't can all of our tomatoes at once. This is our second wagon full of tomatoes this year! Not sure how many more we have left. We still have a lot of tomatoes left on the plants! Yay!
We spent hours as a family picking tomatoes from our garden, processing them, making our homemade sauce and canning them! Our goal this year is to have enough tomatoes to last us until we have ripe tomatoes on the plants from next year's garden. This year we made it until June with last year's tomatoes. FYI, the white marks on the tomatoes are calcium deposits from our well water.
It's always a ton of work for us at this time of year, but so worth it! We'll have fresh fruit and veggies from our garden all winter long. I love being able to make yummy food from the summer in when there is snow on the ground. We spent hours picking, processing and preparing grapes to freeze, too!
While we were picking tomatoes, we let Noah and Nemi play in the garden, too. They picked a flower off the marigolds for Mama, then decided to plant it in the ground. It was so cute to me that they knew that a flower is supposed to be planted in the ground!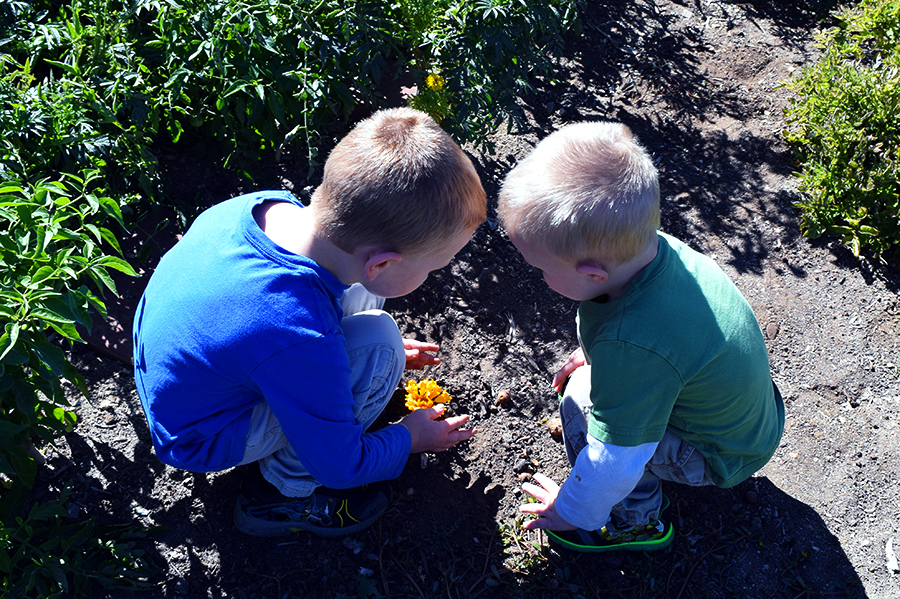 This weekend we'll be harvesting more carrots and canning a pumpkin! We've already done one carrot harvest this year. One of our favorite family traditions is saving our very last bag of carrots from the previous year's garden for Easter dinner. This is a challenging time of year for us, but so rewarding all winter. Pray for my family this weekend!
Thank you, God, for my many blessings! May You keep giving me the strength to handle it all!
Blessings, Mrs. Olsen 💗