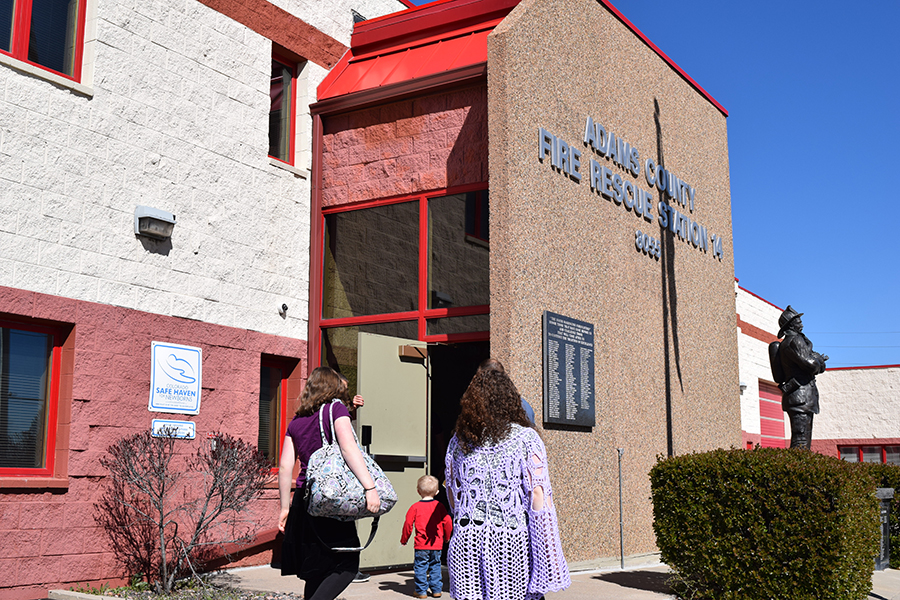 We took our children to the fire station for a field trip. One of our customers, Casey, from our family's shop is a firefighter. We asked him to set up the tour after seeing how Noah's interest keeps growing in fire trucks. We visited the North Washington Fire Department in Denver. It was more interesting than I thought it would be. We all learned something new from the firefighters.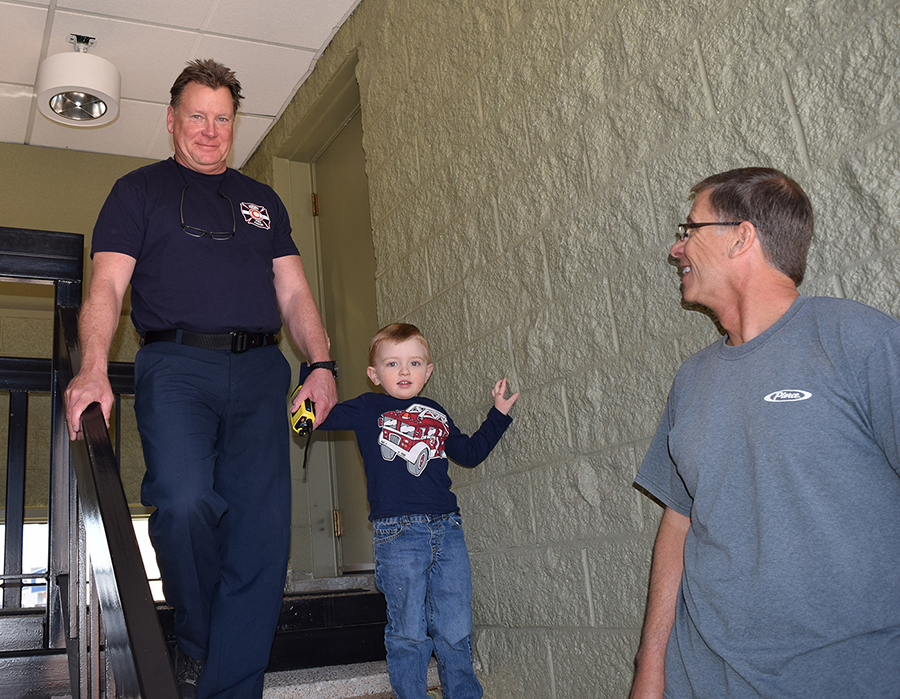 This is Noah with the fire chief and our customer, Casey.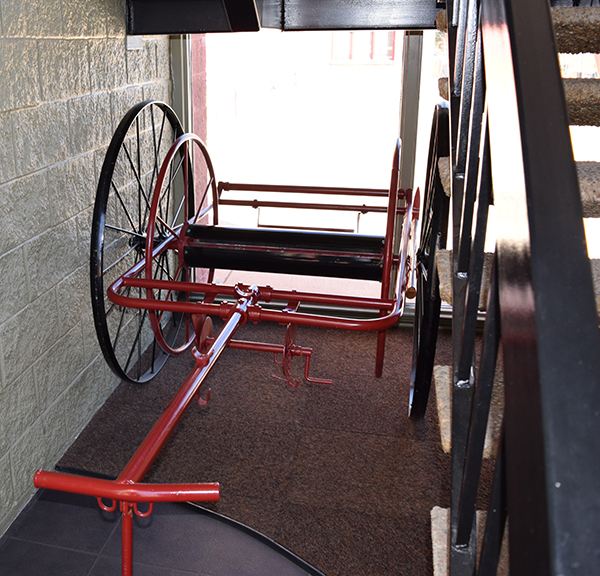 We toured the firefighters living quarters first. They have an antique fire hose reel right when you walk in the door. They have 3 refrigerators in their huge kitchen! They have a great big living room with recliners and a tv. We learned how their day runs and where they sleep. Each bedroom has 3 bunks with fold down beds  – one bed per shift. Each firefighter gets their own space to store things they might need during their shift – from an alarm clock and toiletries to a laptop.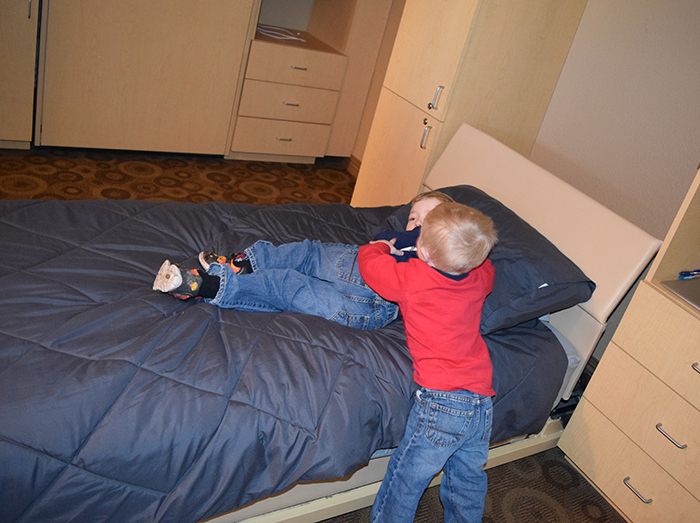 We learned how technology helps make their job easier and less stressful. Instead of one alarm in the station, there are individual alarms in each bedroom, the main room, and the hallway to make it less stressful on the firefighters. The alarm is quieter because of this. On each individual alarm, there is a text message, along with a voice that announces the emergency. They also have apps on their phones that give them a detailed map of where they are supposed to go. At this fire station, there is a dedicated firefighter whose only job is to drive! A very important job that I never thought needed to be a dedicated one. They have huge maps on the wall of the entire area that the fire station covers.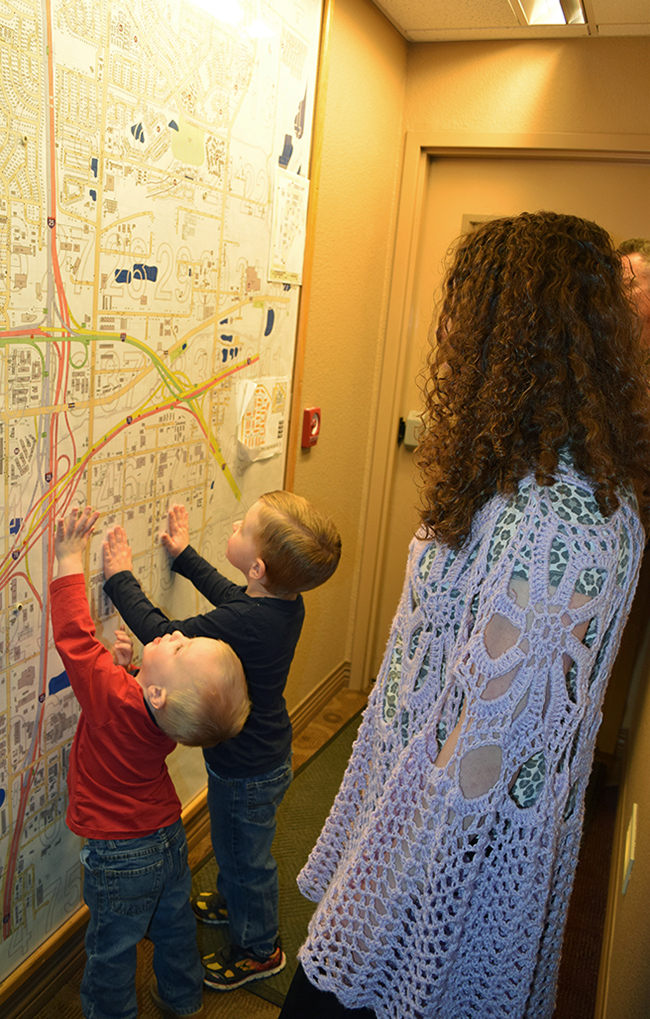 We were even able to find our family's shop on the map!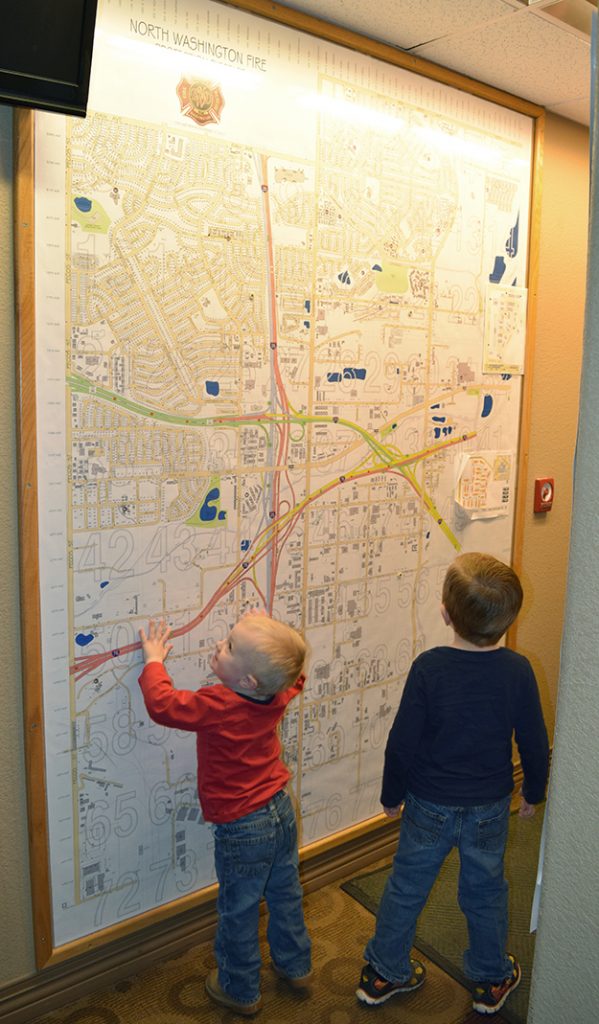 We learned about what their schedule is like. The firefighters schedule is 48 hours on duty, 96 hours off duty. We learned how busy they really are. Some days they run call after call after call. Some days they have nothing going on, so they play basketball.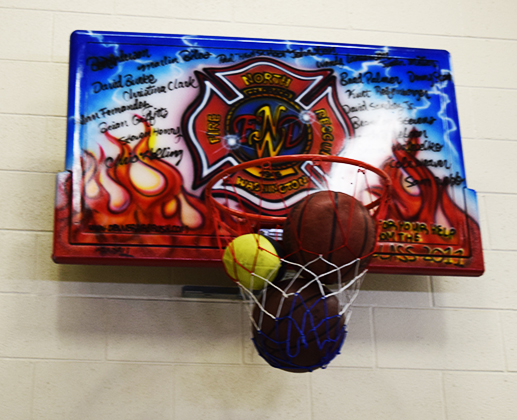 The fire chief said with all of the people moving into Colorado that they have been busier than ever! We asked a lot of questions and they happily answered every single one of them from all of us!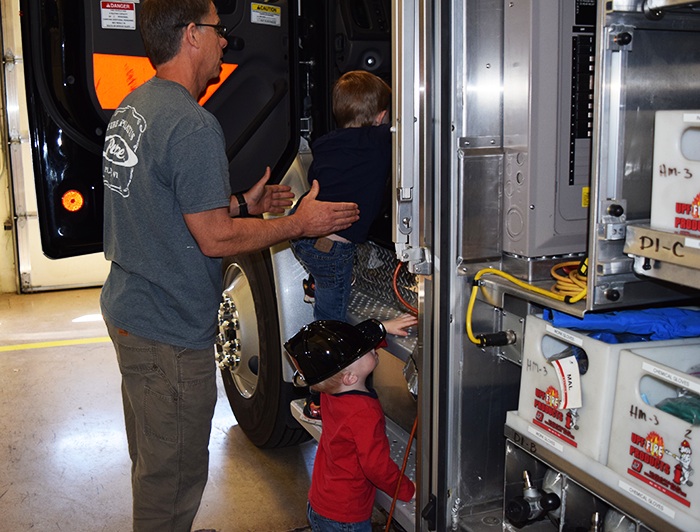 We got to check out a hazmat truck, too. We learned about the special calls that it is sent on. The boys decided to check it out with a little help from our firefighter friend.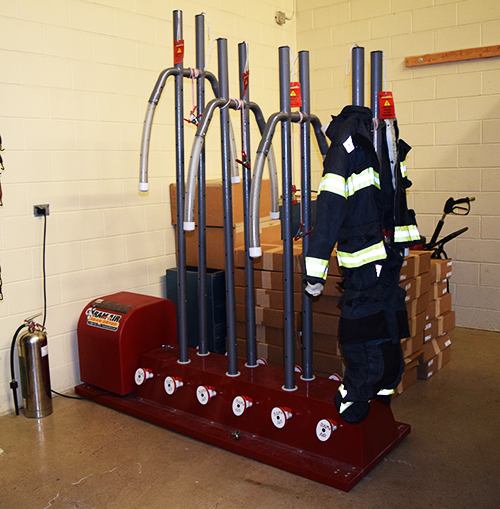 There is a special gear dryer just for their firefighter suits.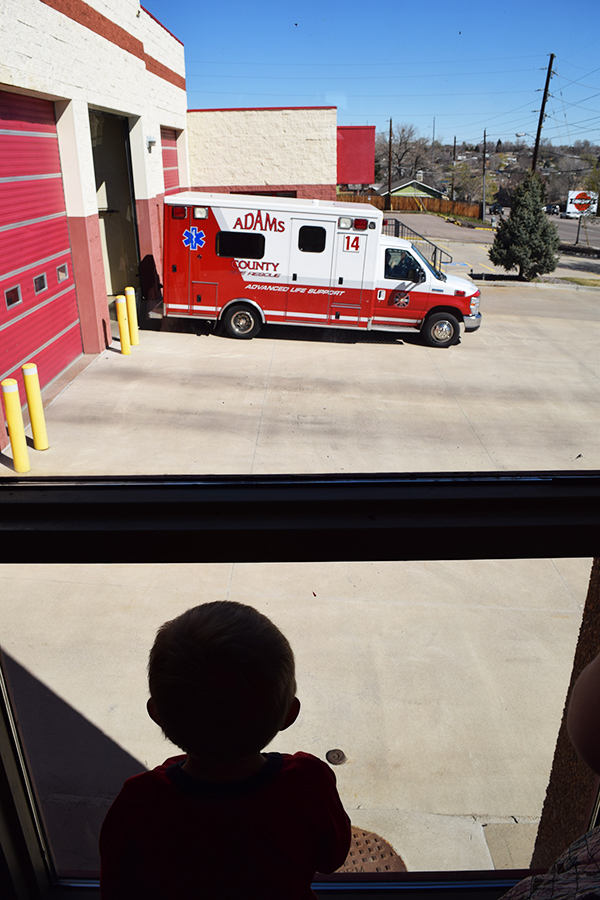 We got to see the ambulance leave for a car accident with the lights on. We got to see the firefighters and fire engine truck leave for a fire at an apartment nearby, too. We told our children that they were going to help people. Here's Daddy, Merci, Noah and Nemi watching the fire truck leave the station.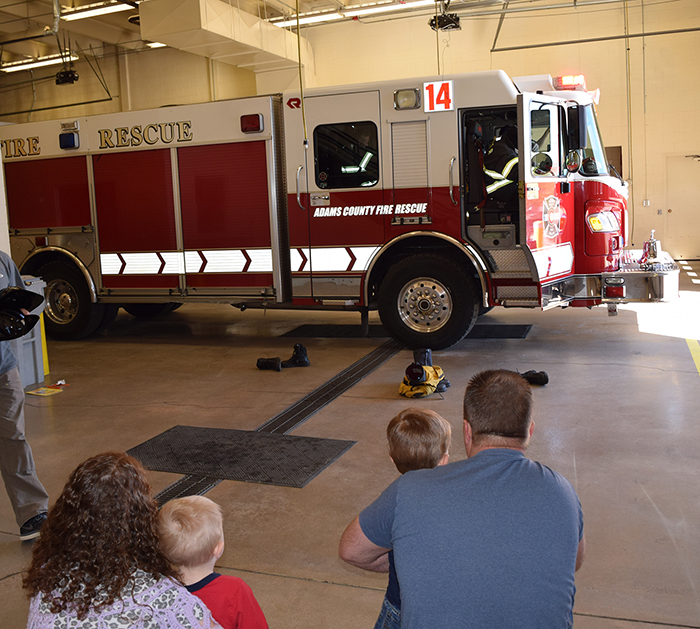 We watched as the alarms went off and the firefighters started moving towards the garage instantly. They walked down the stairs next to the slide. Fire stations no longer have poles because of too many injuries. This was something I didn't even think about before visiting. The fire chief said that most of the firefighters use the stairs because people have been hurt on the slide and it gives them extra time to think about what they might be facing on the call. It was amazing to watch as the paramedics and firefighters left almost instantly! Within minutes of each call, the ambulance and fire truck were on their way to help people. I wish I could get our family loaded up that fast and so efficiently! Moms, you know what I'm talking about! 🙂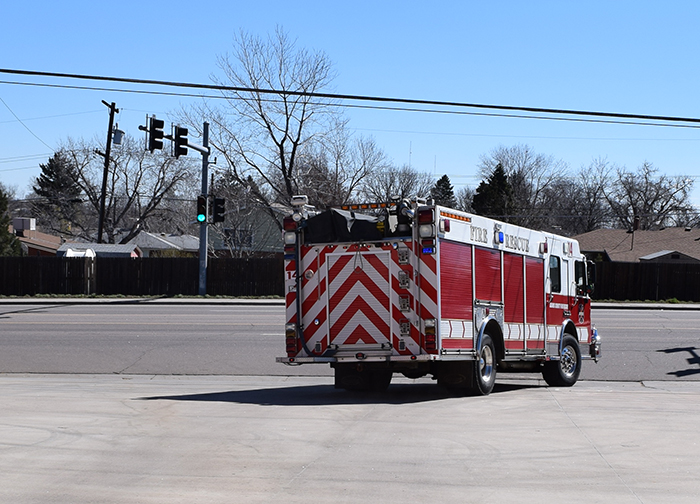 Once the firefighters left in the fire truck on a call, we thought our field trip was over.  Luckily, it was a short call, so they returned shortly.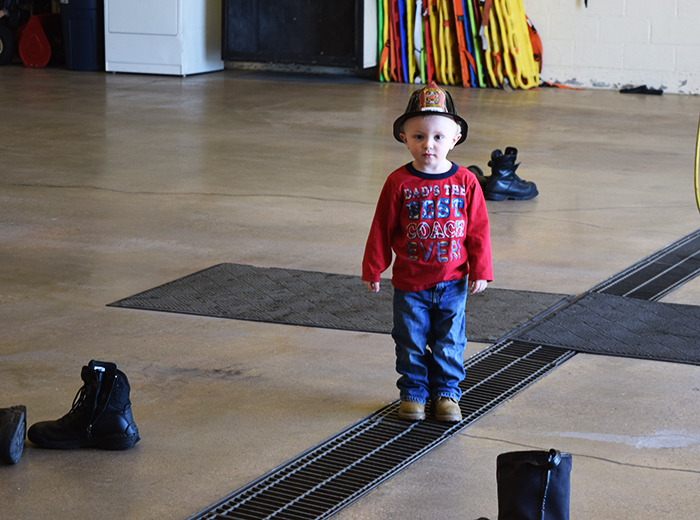 The children were excited to see the fire truck again! That's when the fire truck fun began…Part 2 coming soon. Stay tuned!